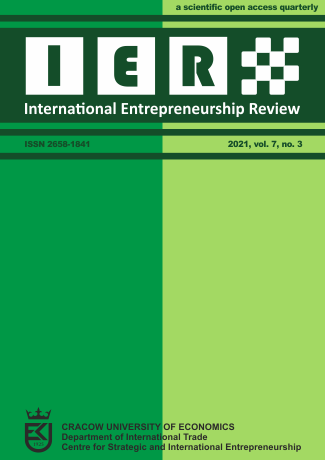 Abstract
Objective: The objective of the article highlight the significance of culture in the entrepreneurial landscape and provides entrepreneurs and (project) managers with a guidance tool to overcome previously unconsidered stumbling blocks while operating in the intercultural setting.
Research Design & Methods: The following article was prepared based on a critical study review devoted to existing approaches to intercultural impact in business life and used the archival technique from 1990-2020. The study review reflects on the identification of existing literature gaps in the implementation of a subcultural business environment. It addresses these by designing an appropriate model to bypass the apparent pitfalls of intercultural business communication and co-existence, if possible.
Findings: Culture impacts diverse sets of society and businesses, including entrepreneurship. This article underpins which pitfalls are advisable to consider when encountering the intercultural and entrepreneurship-driven workplace.
Implications & Recommendations: Based on the study review, startups, as well as big corporate companies' projects of a creational nature, are advised to reconsider their perception and handling of culture applying The Building of Cultural and Entrepreneurial Force.
Contribution & Value Added: The added value of this article is to be found in the solid analysis of cultural essentialism, anti-essentialism, and implications to beware of in the managerial and entrepreneurial context related to The Building of Intercultural and Entrepreneurial Force that intends to ease to co-work of intercultural teams.
Keywords
Culture, essentialism, anti-essentialism, entrepreneurship, cultural perception, cultural innovation, work cultivation, intercultural teams
---
Author Biography
Kerstin Bätz
Graduate Student at the International School of Management in Frankfurt (Germany).
Patrick Siegfried
Professor of Supply Chain Management and Logistics at the International School of Management (ISM) in Frankfurt (Germany). Guest Professorship for Entrepreneurship at the Szent István University in Gödöllö (Hungary). He has professional experience as a CEO of various logistics companies and as a commercial manager for an international distribution centre. His research focuses is on Strategic Management and Inno-vation Management in Startups.
---
References
Agar, N. (2002). Agar's Review of Katz. Biology & Philosophy, 17 (1), 123-139.
Bargiela-Chiappini, F.,& Nickerson, C. R. (1999). Writing business: Genres, media, and discourses. Longman.
Bartha, Z. S., Gubik, A., & Bereczk, A. (2018). The Social Dimension of the Entrepreneurial Motivation in the Central and Eastern European Countries. Entrepreneurial Business and Economics Review, 7(1), 9-27. https://doi.org/10.15678/EBER.2019.070101
Bennett, J. M. (2017). Developmental Model of Intercultural Sensitivity. John Wiley & Sons.
Bennett, N., & Lemoine, J. (2014). What VUCA really means for you. Harvard Business Review, 92 (1), 27-28.
Bhatti, A., Rehman, S. U., & Rumman, J. (2020). Organizational capabilities mediates between organizational culture, entrepreneurial orientation, and organizational performance of SMEs in Pakistan. Entrepreneurial Business and Economics Review, 8(4), 85-103. https://doi.org/10.15678/EBER.2020.080405
Bond, M. H. (1991) Beyond the Chinese Face, insights from psychology. Oxford University Press.
Cheung, M. W.-L.,& Chan, W. (2009). A Two-Stage Approach to Synthesizing Covariance Matrices in Meta-Analytic Structural Equation Modeling. Structural Equation Modeling A Multidisciplinary Journal,16 (1), 28-53. https://doi,org/10.1080/10705510802561295
Christensen, M.C. (2000). The Innovator's Dilemma: When New Technologies Cause Great Firms to Fail.Harvard Business School Press.
Clausen, L. (2010). Moving beyond stereotypes in managing cultural difference: Communication in Danish–Japanese corporate relationships. Scandinavian Journal of Management, 26 (1), 57-66.
Deardorff, D. K.; Trompenaars, F.,& Berardo, K. (2012). Building Cultural Competence: Innovative Activities and Models. Stylus Publishing.
De Genova, N. (2016). The "migrant crisis" as racial crisis: do Black Lives Matter in Europe?. Ethnic and Racial Studies, 41 (10), 1765-1782.
Di Cristini, A., Gaj, A., Labory, S. & Leoni, R. (2003). Flat Hierarchical Structure, Bundles of New Work Practices and Firm Performance. Journal of the Italian Economic Association, 8 (2), 313-328.
Drucker, P. F. (2006). Innovation and Entrepreneurship. Harper Business.
Earley, P. C.,& Mosakowski, E. (2004). Cultural Intelligence. Harvard Business Review, 10 (1), 57-62.
Festinger, L. (1957). A Theory of Cognitive Dissonance. Stanford University Press.
Fischer, R., Ferreira, C. M., Assmar, E. M. L., Baris, G., Berberoglu, G.,Dalyan, F., Wong, C. C., Hassan, A., Hanke, K. & Boer, D. (2014). Organizational practices across cultures: an exploration in six cultural contexts. International Journal of Cross Cultural Management, 14 (1), 105-25.
Fitzsimmons, S. (2013). Multicultural employees: a framework for understanding how they contribute to organizations. Academy of Management Review, 38, (4), 525-49.
Friedman, J. (1994). Cultural Identity & Global Process. SAGE Publications.
Gorski, P. (2013). Reaching and teaching students in poverty. Strategies for Erasing the Opportunity Gap. Teachers College Press.
Habermann, F. (2008). Der homo oeconomicus und das Andere: Hegemonie, Identität und Emanzipation.Nomos: Baden-Baden.
Hall, E. T. (1959). The Silent Language. Doubleday & Company.
Hall, E. T. (1976). Beyond Culture. Doubleday & Company.
Hannerz, E. (1996). Performing Punk. Palgrave Macmillan.
Hassan, Z., Lashari, M., & Basit, A. (2021). Cultivating entrepreneurial culture among students in Malaysia. Entrepreneurial Business and Economics Review, 9(1), 119-135. https://doi.org/10.15678/EBER.2021.090108
Hofstede, G. J. (1980). Culture's Consequences: International Differences in Work-Related Values. SAGE Publications.
Hofstede, G. J. (2002). Dimensions Do Not Exist: A Reply to Brendan McSweeney. Human Relations, 55 (11), 1355-1361. doi: 10.1177/00187267025511004
Hofstede, G. J. & Minkov, M. (2010). Cultures and organizations: software of the mind: intercultural cooperation and its importance for survival. McGraw-Hill.
Holliday, A. (2011).Intercultural Communication and Ideology. London.
Hu, H.C. (1944). The Chinese Concept of Face. American Anthropologist, 46 (1), 45-64.
Johanson, J.,& Vahlne, J.-E. (2009). The Uppsala internationalization process model revisited: From liability of foreignness to liability of outsidership. Journal of International Business Studies, 40 (1), 1411-1431.
Joy, S.,& Poonamallee, L. (2013) Cross-cultural teaching in globalized management classrooms: time to move from functionalist to postcolonial approaches?. Academy of Management Learning & Education, 12 (3), 396-413.
Kaasa, A.,Vadi, M., & Varblane, U. (2013). European Social Survey as a source of new cultural dimensions estimates for regions. International Journal of Cross Cultural Management, 13 (2), 137-57.
Kahn, J. S. (2001). Anthropology and Modernity. Current Anthropology, 42 (5), 651-680.
Kaplan, R. B. (1966). Cultural Thought Patterns in inter-cultural education. Reprinted in K. Croft (Ed.) Readings on English as a Second Language for teachers and teacher trainers. Cambridge MA: Winthrop.
Kim, C. W., & Mauborgne, R. A. (2015). Blue Ocean Strategy: How to Create Uncontested Market Space and Make the Competition Irrelevant. Harvard Business Review Press.
Lauring, J., Bjerregaard, T., & Klitmøller, A. (2018). Understanding Culture in International Management: Functionalism, Constructivism, and the Emerging Practice Turn. International Studies of Management & Organization, 48(3), 264-276. https://doi.org/10.1080/00208825.2018.1480869
Lavoie, D. (1991). Economics and Hermeneutics. Routledge.
Lewrick, M., Link, P.,& Leifer, L. (2018).The Design Thinking Playbook. Wiley.
Mao, R. L. (1994). Beyond Politeness theory: 'Face' revisited and renewed. Journal of Pragmatics, 21(1), 451-486.
Maslow, A. H. (1943). A theory of human motivation. Psychological Review, 50(4), 370-396.
McKinsey & Company (1993). Born global. The McKinsey Quarterly, 4 (1), 45-63.
McKinsey & Company (2020). Problems amid progress: Improving lives and livelihoods for ethnic minorities in the United Kingdom. McKinsey Global Publishing.
Myers, I. B. (1962). The Myers-Briggs Type Indicator: Manual (1962). Consulting Psychologists Press.
Nathan, G. (2014). Multi-stakeholder deliberation for (Global) justice: An approach from modern civic republicanism. In S. Schepers, A. Kakabadse (Eds.) Rethinking the Future of Europe: A Challenge of Governance (pp. 10-27).Palgrave Macmillan.
Olwig, F. K. (1997). Introduction and Cultural Sites: Sustaining a Home in a Deterritorialized World. In F.K. Olwig & K. Hastrup (Eds.), Siting Culture: The Shifting Anthropological Object ( pp.23-47). Routledge.
Pan, Y. (2000). Politeness in Chinese Face-to-Face Interaction. Ablex Publishing.
Pearce, C. L. (2003). The future of leadership: Combining vertical and shared leadership to transform knowledge work. Academy of Management Perspectives, 18 (1), 47-57.
Pearce, C. L.,& Conger, J. A. (2002). Shared Leadership: Reframing the Hows and Whys of Leadership. SAGE Publications.
Primecz, H., Romani, L., & Sackmann, S. (2009). Cross-Cultural Management Research: Contributions from Various Paradigms. International Journal of Cross Cultural Management, 9(3), 267-274.
Radziszewska, A. (2014). Intercultural dimensions of entrepreneurship. Journal of Intercultural Management, 6(2), 35-47. https://doi.org/10.2478/joim-2014-0010
Ries, E. (2012). Lean Startup: Schnell, risikolos und erfolgreich Unternehmen gründen. Redline.
Rumelt, R. (2011). Good Strategy Bad Strategy: The difference and why it matters (4th ed.). Profile Books.
Sayer, A. (1997). Essentialism, Social Constructionism, and beyond. SAGE Journals, 45(3), 453-487.
Scollon, R.,&Scollon, S. (2001). Discourse and intercultural communication. In D. Schiffrin, D. Tannen, & H. E. Hamilton (Eds.), The handbook of discourse analysis (pp.538-547). Blackwell Publishers.
Schumpeter, J. A. (1942). Capitalism, Socialism, and Democracy. Harper.
Sinek, S. (2009). Start With Why. Penguin LCC US.
Singh, J. V., Tucker, D. J.,& House, R. J. (1986). Organizational Legitimacy and the Liability of Newness. Administrative Science Quarterly, 31 (2), 171-193.
Søderberg, A. M.,& Holden, N. (2002). Rethinking cross cultural management in a globalizing business world. International Journal of Cross Cultural Management, 2 (1), 103 - 121.
Spencer-Oatey, H. (2002). 'Managing rapport in talk: using rapport sensitive incidents to explore the motivational concerns underlying the management of relations. Journal of Pragmatics, 34 (5), 529-545.
Start Up Wissen (2020). Warum scheitern StartUps? Die 20 häufigsten Gründe. Retrieved 18.02.2021 from https://startupwissen.biz/daran-scheitern-die-meisten-startups/
Swart, K.,& Maralack, D. (2020). Black Lives Matter: perspectives from South African cricket. Sport in Society: Culture, Commerce, Media, Politics, 23 (11), 1-16.
Szromnik, A. (2019). Market and marketing within the concept of functioning and development of cultural heritage sites. International Entrepreneurship Review, 5(3), 79-94. https://doi.org/10.15678/IER.2019.0503.06
t3n (2016). Warum Startups scheitern: Das sind die 20 häufigsten Gründe. Retrieved from https://t3n.de/news/startups-scheitern-20-569194/ on 27.01.2021.
Taylor, K.-Y. (2016). From #BlackLivesMatter to Black Liberation. Haymarket Books.
Trompenaars, A.,& Hampden-Turner, C. (1997). Mastering the infinite game: how East Asian values are transforming business practices. Capstone.
Usunier, J.-C. (2011). Language as a resource to assess cross-cultural equivalence in quantitative management research. Journal of World Business, 46(3) 314-319.
Voloshinov, V. N., Matejka, L.,&Titunik, I. R. (1973) (original 1929). Marxism and the philosophy of language. Seminar Press.
Wach, K. (2015). Impact of Cultural and Social Norms on Entrepreneurship in the EU: Cross-Country Evidence based on GEM Survey Results. Zarządzanie w Kulturze, 16(1), 15-29. https://doi.org/10.4467/20843976ZK.15.002.3037
Wąsowicz-Zaborek, E. (2018). Influence of national culture on website characteristics in international business. International Entrepreneurship Review, 4(3), 421-442. Retrieved from https://ier.uek.krakow.pl/index.php/pm/article/view/1783 on 27.01.2021.
Wendt, D. C., & Gone, P. J. (2011). Rethinking cultural competence: Insights from indigenous community treatment settings. SAGE Journals, 49 (2), 206-222.
Weinberg, U. (2019). Design Thinking: Vom Innovationsmotor zum Kulturtransformator. In Von Engelhardt, S. &Petzolt, S. (Eds.), Das Geschäftsmodell Toolbook für Digitale Ökosysteme (pp. 36-49).Campus.
Downloads
Download data is not yet available.